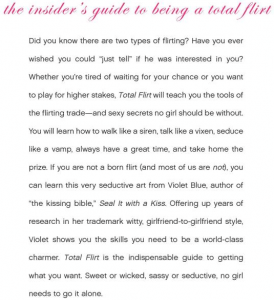 As we get closer to the exciting book release, all the little bits and bobs are coming into place – and it's actually a lot of work! I do love being hands-on and in control of the marketing on this book. It's nice to know everything will be accurate, respectful and innovative. Anyway, here's the new official description text for the Total Flirt book:
Ever wish you had a cheat sheet for flirting? Total Flirt is the hip girl's handbook to getting any guy you want. With the techniques in Total Flirt, no guy will ever be "out of your league."

Know how some girls seem to have secret tricks to get guys? And guys use tricks like "The Game" to get girls? Well, here they are. This is Girl Game.

Total Flirt is packed with tricks and tips for every situation you'll encounter when out on the prowl. Secrets of pick-up artists are explained and styled for the girl who wants more out of life.

Spend 20 minutes with Total Flirt and learn:

Two distinctive ways to flirt, and why you need to know the difference.
Total Flirt relies on the science of kinesics, the study of body language and its hidden messages: learn how to communicate magnetism and seduce your target – or get rid of someone – without words.
Take style quizzes to see what kind of flirt you are, and what kind you could be.
Master the art of "speed flirting" and how to tell if he's worth it.
Get oodles of conversation starters – and exit strategies when you need to hit the "eject" button.
Find out how to tell if he's really into you (or just a friend), and how to eliminate the competition.
Learn how to walk like a siren, talk like a bombshell, and seduce like a vamp — learn how to do it all online.
How to get guys you think are "out of your league."

This fun and breezy purse-sized "pocket wingmate" is perfect for girls who just wanna have fun, and those looking for "the one." The Total Flirt is from sexuality expert and bestselling author Violet Blue – formulated from years of research, studies, and infiltration of male and female pick-up artist societies.
Image: back cover.