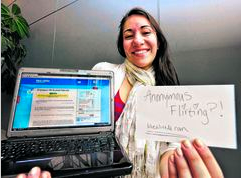 While flirting with the internets, I found likealittle and within minutes I've fallen deep in like – and I wish it wasn't just for college students! It's one of the cutest, funnest anonymous flirting websites (only flirting website?) I've ever seen. I can see how likealittle is so incredibly addictive for everyone on it, and I love that it's all anonymous. They keep it sweet, flirty, and anon! Yay! This is how The Chicago Sun-Times describes the site:
(…) Likealittle.com, the latest social networking site to sweep America campus-by-campus, has taken off locally in the last month. Started Oct. 25 by Stanford University students, the site facilitates anonymous flirting in a "missed connection" format. The site describes itself as a "flirting-facilitator platform," a place where anyone can "compliment and chat about potential crushes you see around you."

(…) The website bans sexist, harassing or demeaning comments. [Katelyn] Newey sees the anonymous positivity as a way to bring her commuter campus closer together. "It's by no means an online dating website, it's a fun way of flirting," she said. (…read more, suntimes.com)
What hooked me was visiting the site and reading likealittle's "About" page. I teach at UCSF's extension – does that count!? Here's to hoping some savvy web entrepreneur figures out how to make likealittle happen for the rest of us!
In
Snuggies.

Out
The mullet.

Plan B
Finally, in the event that this site proves ineffective in getting you a date, phone number, or email address, our final suggestion is to carry around a picture of a cute puppy (+10 to your charisma if its tongue is sticking out) and gratuitously pull it out in every social situation. For your convenience, we have included one on this page! Just print it out, cut on the dotted lines, and place it conspicuously in your wallet or purse.

Development Derring-Do
We released version 1.0 in October 2010 after 90 cumulative years of frustrated flirtation, 42 cups of coffee, and 12 hours of hardcore development. The site was born at Stanford, in part, due to my lack of game with women. At the moment, Like a Little is only localized to a few college campuses, but we are looking to bring it to other colleges around the country. Contact us intern@likealittle.com if you're interested in being a Like a Little Prophet!

Happy flirting!
Evan and the Like a Littlers
P.S. We'd love to hear from you! Just email Evan at anytime with thoughts, ideas or suggestions at evan.reas@gmail.com. Do not be alarmed if he replies within 30 seconds at 4 AM.