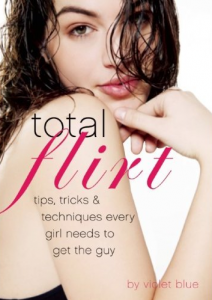 The Total Flirt is a guide we smart girls have been waiting for. Finally: A real flirting, pick-up arts, and hookup guide for girls who want to get what they want. Every woman: from the shy and nerdy to the brazen or even the girl who wants to know what to say to that hottie who makes her blood run hot. And keep the conversation going: At parties, in cafes, online, anywhere. It also teaches us how to turn the tables on guys trying to trick us with "mind control" techniques — or even use their techniques to our advantage.
Learn how to flirt. The Total Flirt is fun and funny and sweet, but it takes no prisoners — unless it's the sexy one you're intereted in catching. It also teaches you how to get out of awkward flirting situations, exit lines and strategies, and how to know when they guy you're flirting with is a bad idea.
The first step in our master plans is understanding the concept of flirting. Guys see girls who flirt in a number of ways: cute, sweet, annoying, sexually available (most guys mistake female attention for sexual interest), scary but exciting, thrilling, slutty, or they're relieved not to be guessing if you're interested. In this book and on this website, in videos, articles, apps and tutorials, you'll find out how to navigate all of these situations and turn them to your advantage, even if that turns into "get me outta here!"
Flirting can be deliciously sweet, like a juicy peach on a hot summer day. Flirting is wicked. Flirting is naughty. Most of all, flirting is fun. Congratulations on your decision to join the legions of fun-loving flirts who can realign the earth's orbit with the perfect opener—or a sweet, quiet smile that can stop any international man of mystery in his tracks. The world of mortal men can always use a few more supervixens to make the party more interesting. Start now, and soon you'll have enough of an arsenal of tricks, treats and slinky moves to reign as queen supreme of the dating scene, or be that glittery girl who shines at the party. Or—to find that blissful connection with someone you really like.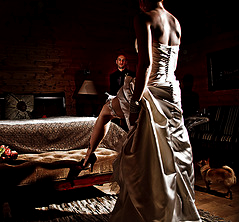 Your Personal Flirting Path (to Success)
Whatever your experiences with flirting are in the past, the tips in Total Flirt and on this website will provide oodles of foolproof techniques for finding, enjoying and keeping the attention of your man du jour. Your goals don't need to be world domination or creating an army of male slaves—though all skill levels and go-getters are encouraged to apply.
Perhaps you're tired of being the too-quiet one in the group and for a change you'd like to be the man-magnet for an evening. Or maybe you're on the prowl for a down-and-dirty fling. No matter your motives, flirting is where you shine and celebrate yourself, life, your friends, the life you have here and now, and make the most of how you connect with someone you find attractive. Now that you're getting clear on your personal flirting path, it's time to learn all the right move, lines, and expert tricks to dial up your flavor of the moment.
My name is Violet Blue, and I've been researching this book and studying pick-up practices for six years to make this the most complete (and honest) guide to flirting for women. I'll break down the basics so you can pick and choose the flirt style to go with every outfit, every occasion and every guy who peaks your interest. And even when your VIP flirting skills get you to the front of the line, they can also be your secret backdoor exit passes that get you out of sticky situations that might arise when you showcase your irresistible skills. You're about to get that all-access pass to any party you want into, and all the tricks you need to accessorize it for full effect.
Remember: it's always better to be flirty than forgotten.
Get Total Flirt.