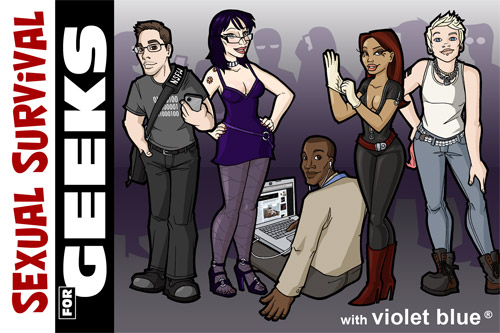 Hey sexy geek! Get a Geek Sexual Survival discount at Babeland.com for 10% of all orders with the code VIOLETBLUE – visit their Babeland Sexy Geeks page for discount info, my geeky sex toy picks and much more. Get serious about flirting with my book, Total Flirt.
This page and suite of sexy geek resources is part of my SXSW talk The Sexual Survival Guide for Geeks – which I'm proud to say kicks off the new "Health" category for SXSW Interactive.
Here are the slides from my Sexual Survival for Geeks presentation, SxSW 2011:
Austin sexuality resources:
All Austin Planned Parenthood locations offer the morning after pill, complete STD/STI testing, diagnosis and treatment (for all genders, men welcome). They also do UTI (urinary tract infection) testing and treatment, and no one will be turned away due to a lack of money. Their walk-in services (no appointment) include Emergency Contraception (EC, morning after pill), Pregnancy Testing, and Sexually Transmitted Infection Testing. North and South Austin locations offer rape crisis counseling referrals and states, "If you can't make it in to a Planned Parenthood health center, you may be able to get emergency contraception at a nearby pharmacy."
Also:
Austin's Live Oak Pharmacy (LGBT friendly)
Austin sexual assault and domestic violence help center, 24-hours, hospital accompaniment, legal assistance: SafePlace.org : 512-267-SAFE (512-267-7233)
Austin police victims services 24-hour helpline: 512-472-HELP (512-472-4357)
Suggested ingredients for your sexual survival kit:
Breath mints.
Safer sex supplies, such as condoms, latex (or non-latex) gloves, barriers such as dental dams.
Lubricant, to keep condoms and safer sex gear moist and intact.
Scent-free, oil-free intimate wipes.
A fully charged phone, and a friend who knows where you are.
Ideally: a mini vibrator, for pleasure insurance.
Special thanks to: Babeland.com, illustrator Martin Whitmore (martinwhitmore.com), author Alison Tyler (alisontyler.com), SFSI.org, my stellar PA Juliette Stray, and SXSW support staff.