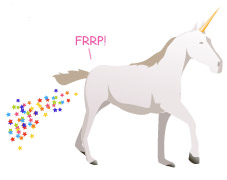 Oh no! The elusive and beautiful unicorn has evaded you. Don't give up; the smutty, sexy story that awaits you is worth the chase.
The book Total Flirt by Violet Blue has a unicorn in it. Enter the correct page number that the unicorn is on and get a very naughty, adults-only work of explicit erotic fiction by Sommer Marsden, illustrated with photos by Chris LeBlanc.
Try again, unicorn hunter:
Illustration of unicorn farting in your general direction by Matthew Inman from 10 Reasons It Would Rule To Date A Unicorn.